Unzipping your theme
What is a "zip" file?
It's a container, similar to a file folder, called an archive, with files compressed or "squeezed" in it. It is most often used for saving space, for storing files together that need to be stored together, and for putting several files together for sending to other people with email or on web pages.
Since web space and download bandwidth can be expensive, most people who offer files for downloading will store their files inside a zip file. If you have a file name that ends with ".zip" – you have a zip file.
Most modern operating systems, like Mac, Windows and Linux and have zip support built right in, but in case you're using an older system, there are programs like Winzip, and 7-Zip, both highly recommended and respected apps for handling zip archives.
If you've never used zip archives before, or you find it confusing, this tutorial has been written to help you learn how to un-zip an archive, like the one you got your lovely new eFrog theme in.
So, you've downloaded your theme to your computer, and put it in a folder that you've chosen, say, "The Forge", here's what it looks like:

We are using a Mac in this example, and your computer may look a little different, but don't worry, they all work pretty much the same.
The icon says ZIP on it, and that means the operating system knows how to handle the file, or which program to open it with. Right-clicking the file will bring up a little menu with some useful options: "Extract here", or "Unpack here", or "Decompress here", which you can select to un-zip the archive into the same folder. Double clicking the file will most likely do exactly the same thing, and unpack the archived files into a folder like this: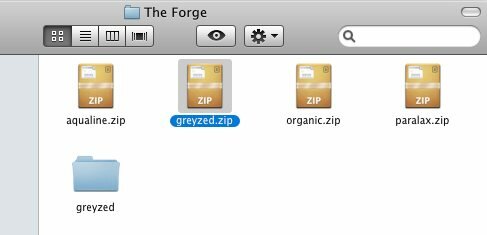 That was easy. We double-clicked the "greyzed.zip" file, and our Mac unpacked it into a folder named "greyzed".
Now, let's look into the folder, by double clicking it.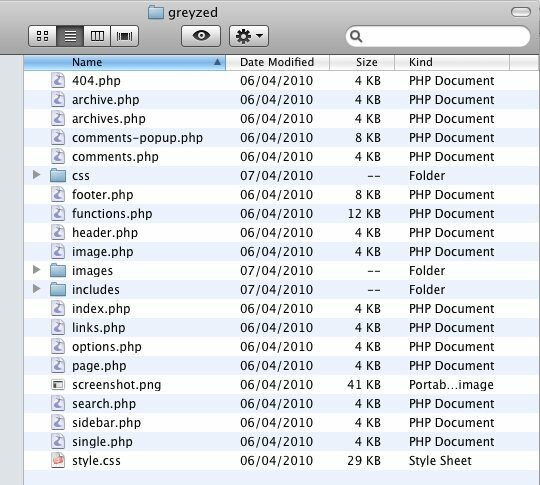 Great! Those are the files that make up the Greyzed eFrog theme, ready to go.
Useful Tip: When un-zipping archives, be mindful of where on your computer you're putting them. You'll need to know this when it's time to upload your theme to your blog.