Who we are
eFrog is the new kid on the WordPress theme block.
Officially known as eFrog Digital Design, our company was started by the team of designers, developers and other talented peanuts who comprise The Forge Web Creations, a successful web agency based in Cape Town, South Africa.
Side note: eFrog is an anagram of Forge. Clever, hey? We think so.
Now we could go on to publish a photo and profile on each of the eFrog tadpoles but we think that's all a bit dull. And who reads those things anyway?
There's really only one chap you need to concern yourself with around here, and that's this little guy: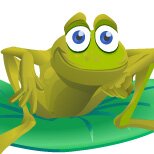 George E. Frog
George is our spokesfrog, our leader and our hero.
He's the one who actually runs the whole eFrog show. George announces the latest news, runs our support forums, sends out our newsletters, tweets for us and generally lends a helping webbed digit or two, whenever you need it.
If you need anything from us, George is your frog. Feel free to contact him here.