14
Posted August 8, 2012 by Rockstar Frog
Categories:
Plugins
Turns out quite a few of you folks enjoy the idea behind WP Live Stream!
Well, we do too. And thanks to a creative handful of suggestions from users, we've be able to add some awesome ideas! These changes are just too legendary to hide under a pond-lily! The best part is that all the simplicity of the original WP Live Stream is still there.
Let's take a look. We've included old and new features in the list below:
Twitter Notification – Connect your Twitter account to WP Live Stream and send a tweet out with a link to your live stream when you start live blogging.
Clear & Archive – Clear your database of previous tweets or archive them.
Widgetized – Place your Live Stream anywhere on your blog that is widget-ready.
Shortcodes – Configure WP Live Stream on a dedicated page on your website.
Customize – Choose font colours, widths, background colours, update colours and much more.
Improved Admin Settings Panel (NEW!)– The settings panel is categorized and simple to navigate
Rich media (NEW!) – Attach images from your computer or by placing a image URL in your stream or uploading your own
URL Shortening (NEW!) – Using your bitly credentials you can now utilize URL shortening for URL's longer than 20 characters as you type
Live Updates & Simple Resource Management (NEW!)– manage how often your users live streams are updated in realtime to find a balance between server load and keeping their feeds current.
View Older (NEW!) – Allow your visitors to browse the streams history all the way back to when it began right inside the stream.
Multiple Streams (NEW!) – Want to store or display multiple streams / event streams? Now just give your stream a unique ID of your choice and keep your streams seperate.
Email Streaming (NEW!) – Email from your phone to your wordpress blogging address with "#livestream" in the subject line and stream from wherever you are.
Whoa! Hold your pond leaves. Did I just skim over 2 amazing features? Let's look at those a little closer:
I now can have as many unique live streams as I want?
Why would you need this?. Well sometimes you whacky socialite tadpoles might be in 2 ponds at once, and need 2 streams going, or perhaps you have a general live stream for your blog and a live blog post for a current event. In the past, this wasn't possible cause you only had one live stream, but just by supplying a "Stream ID", now you can!
I can Live Stream from where-ever I am via email?
Yes you can, tadpole. Just by setting up your wordpress "Post via Email" settings found in your admin section under "Settings -> Writing" or installing the "Postie" plugin (which allows image attachments too!) you can email your live streams like you would a normal post, except now using "#livestream" in the subject line. Just like the screenshot below!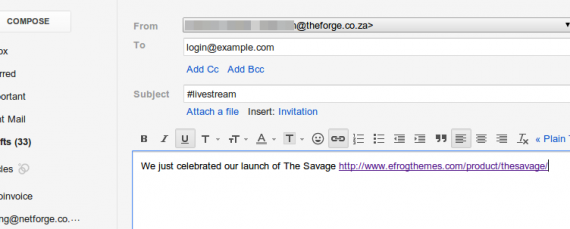 Is your mind blown yet? Should I send someone clean the pond? If you want it, come and get it. It's still under the GPL so it's free for all and to do what you will!
Happy streaming!

popular news

STORIES

Hello, lovely tadpoles! Do you remember our post about adding Twit...
Browse our themes