Hi Tadpoles!
We get a lot of queries via email from folks who are interested in our fantastic group-buying theme, The Big Deal.
Frog-fingers don't do that well at retyping answers, so we extracted a bunch of the questions, and our replies, to make a easy-to-find repo of information about The Big Deal.
For you.
Coz, froggy-luv.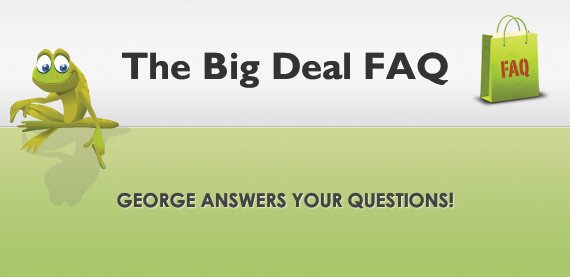 Here we go:
PAYMENTS
"Which payment gateways does the theme support?"
The Big Deal has support for PayPal built in. Any other payment gateways would have to be added in via custom development.
"Can I use Woocommerce Payment method plugins?"
The theme was actually created and launched before Woo-commerce was released, and we have no current plans to extend the theme, so no, it does not have the compatibility that you're looking for.
CURRENCY
"How do I set the currncy symbol displayed on deals?"
In the Dashboard, eFrog | eCommerce | PayPal Options | PayPal Currency, select the currency. The symbol on the deal is decided by this setting.
RESPONSIVE
"Is the theme responsive, or is there a responsive version?"
The theme was not designed to be responsive.
LANGUAGES
"Can I translate the theme into «insert language of choice» ?"
Unfortunately, when we created The Big Deal, the multi-language capability was not considered a "must-have" feature, and so we didn't implement support for the WP Internationalisation API. It would be a challenge to translate.
"It's easy to translate to Greek?"
For us? Impossible. We don't speak Greek :)
CUSTOM
"Can I set up a quantity discount sytem. Like, if order QTY over 50pcs, price is $100.. if order QTY over 200pcs, price is cheaper at $80?"
No, sorry, that's not a feature of the theme.
"Can I have directory for busines or a place to list them?"
Not in the theme as we've designed it, no.
"Can I show more than one deal on the front page?"
The Big Deal is only designed to show one deal on the front page. If you'd like to see the other current deals, select a city from the "See all deals in" selector, top right.
"Does the theme create redeemable vouchers?"
The big deal doesn't have support for the voucher code method which has become quite popular recently.
"How can I get these features?"
It is always possible for you to customise the theme with the correct HTML, PHP, JS and CSS skills, or by hiring/bribing a competent PHP/WordPress developer.
"Can you do this custom work for me?"
The Forge does not undertake this kind of custom development.
OPERATION
"After the deal purchace what happens? Does the user receive an email?"
Yes. Look here for a better behind-the-scenes look:
The Big Deal Reveal
"Can I see the panel how to add deal, etc?"
It's a standard WordPress add post/page layout, with extra metaboxes.
SETUP
"Once I have paid the theme (The big deal US$97), do I need to renew every year?"
No, it's a once-off payment.
"Is there anything else I need to buy for the theme? Such as any database? WordPress?"
No, not in terms of software. WordPress is free, the database is supplied by your web-hosting company, in the hosting package.
You DO need a WordPress capable hosting package, which WILL have a cost attached, and you WILL need to register a domain, which MAY have a setup fee, and WILL have an annual renewal fee.
We've answered these questions already:
Soup to Nuts, Part 1
Soup to Nuts, Part 2
Soup to Nuts, Part 3
"Is it easy install to my domain? As I am not very very good in IT."
We think it's easy :)
Seriously though, it depends on your skill level.
Required Reading: Tutorials
"How to avoid fraud from users?"
Stay off the internet and don't do business.
(We're being facetious, but that's actually an honest answer.)
Seriously, we make the themes, you make the business.
The right people to speak to about this question are your bankers, business advisors etc.
"hello, i am interested in purchasing this theme, however i have a question. when i get businesses to sign up, how will they have their redemption system? do they have an online ability to go and 'check off/redeem' a customers purchase? do they get send an email with new purchases on a daily basis? will you have unique vouchers sent to all purchasers?"
That's more than one question… :)
Here's a blog post we did to answer all of the similar questions that we've had:
The Big Deal Reveal
popular news

STORIES

Hello, lovely tadpoles! Do you remember our post about adding Twit...
Browse our themes